Soil Compaction Testing Solutions from Humboldt
Soil Compaction Testing, or density tests, are vital to the construction and engineering sectors and are performed in order to determine the soil compaction level. Test data is used for support of building foundations, roads and other earth retaining structures. Generally, a geotechnical engineer will provide recommended specifications to ensure that adequate compaction is achieved and to what degree of soil density is required.
Humboldt provides a variety of products to meet your soil testing needs including instruments for measuring compaction and density, uniformity and stiffness, and plate load and bearing testing.
Nuclear Gauges
Humboldt's NEW HS-5001SD Moisture/Density Gauge provides more efficient operation, data collection and processing than any other gauge in its class.

The HS-5001EZ Moisture/Density Gauge is just that — easy. Easy to operate, easy to power and easy to service.

Electrical Density
The H-4114SD.3F Electrical Density Gauge (EDG) is a nuclear-free alternative for determining the moisture and density of compacted soils used in road beds and foundations.
Sand Cone
The H-4245 Sand Cone Apparatus determines the in-place density of soils having a maximum particle size of up to 2" (51mm) using test hole volumes of approximately 0.1ft3 (2.8L).

Our H-4249 4.5" Sand Cone Apparatus can be used when it is desired to collect a smaller sample or when gathering a sample is difficult due to extremely hard compacted soil.

The H-4248 large 12" Sand Cone Apparatus is ideal for determining in-place density of gravel and coarse soils. The unit features two identical cones with a large valve between them and a circular density plate for support on the bottom.
Density Drive Sampler
Density Drive Samplers are available in 3" and 4" heads and are typically used to verify compacted fill placement, or to obtain samples from the bottom of shallow excavations.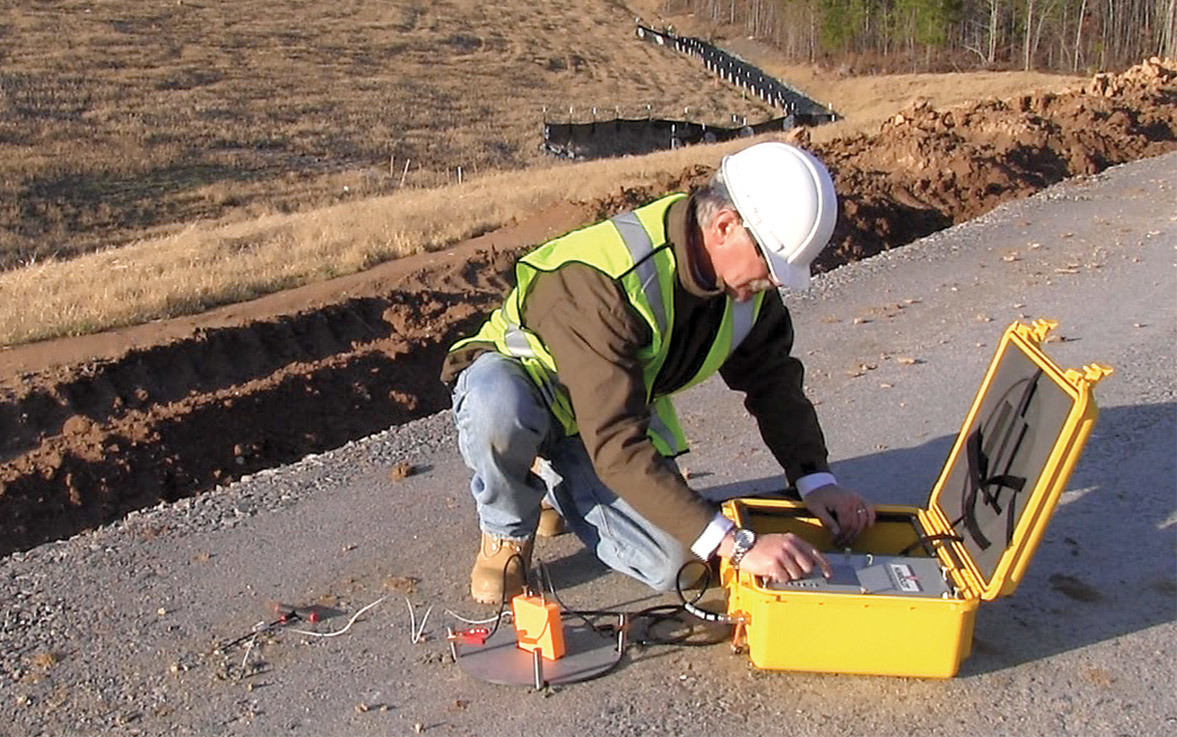 Voluvessel
Humboldt's H-4166 Voluvessel is designed with a plastic cylinder, which screws into the density plate with the pump assembly mounted on top.

The H-4167 Voluvessel is designed with a plastic cylinder, which screws into the density plate with the pump assembly mounted on top.

The H-4116 Voluvessel with metal guard is used with max-sized soil particles of 0.5" and features a base-mounted pump and a metal guard for the graduated plastic cylinder which provides an integral metal handle.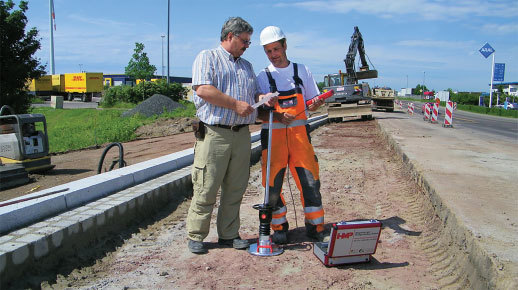 Lightweight Deflectometer

Humboldt offers four models of Lightweight Deflectometers from HMP GmbH – the deluxe models are the HD-4129.3F or HD-4159.3F and the basic units are the HD-4130.3F or HD-4149.3F. Basic and deluxe units are the same mechanism and differ only in the controller used with each.

Geogauge
Our H-4140 GeoGauge is a unique, QC/QA field tool that can be used to measure the uniformity of unbound pavement layers by measuring the variability in stiffness throughout a structure.
Static Plate Load Tester
The HD-4139.3F Static Plate Load Tester is utilized in earthworks and foundation engineering as well as road construction. The unit can determine load settlement lines to evaluate the deformability and the load capacity of the soil.
Humboldt Plate Bearing Tester
The Humboldt Plate Bearing Tester is a field test used for determining the bearing capacity of soil under varying loading conditions. It can also be used to evaluate designs of airport and highway pavements. The Plate Bearing Tester is available in capacities: 100kN, 200kN and 500kN.